From our president
As we recover from a busy weekend, Julius and I would like to take this opportunity to congratulate, thank and recognize the powerful team behind the success of Miss Uganda North America 2018 – Our Voices Elevated. The Miss Uganda North America Leadership Program couldn't be prouder of the hard work and teamwork that paid off as Inzozi Fashion House – in collaboration with the Ugandan North American Association – UNAA – presented Miss Uganda North America 2018 in Seattle, Washington. Here are a few Thank You's.
To the class of 2018, it's been a wonderful journey. You took the opportunity to be ambassadors of your heritage and your people, and you embraced the challenge. You led conversations about us girls, created an unbreakable sisterhood in bootcamp and lit up the pageant with beauty, grace and intelligence. Don't forget to use your voices because you're all QUEENS! What we do together going forth is what is most important. Congratulations to the winners of the night: Miss Uganda North America and Miss Popularity winner Shalom Aburu, runners up Leni Noelyne (1st Runner Up and Miss Talent) and Tramaine Kaleebu (2nd Runner Up), and Miss Personality Michelle Namuyaba Mukasa. We look forward to watching all of you grow to even more greatness.
Congratulations to the 2018 Rise Up Award recipients Dr. Sarah Matovu and Mr. Derreck Kayongo, and to their fellow nominees Jacent Tamale and Allen Kakooza. Thank you for being positive role models.
To our MCs Adoch Oryema Acemah and Anita Fabiola for gracefully leading us through this beautiful night of Fashion and Culture for Women Empowerment.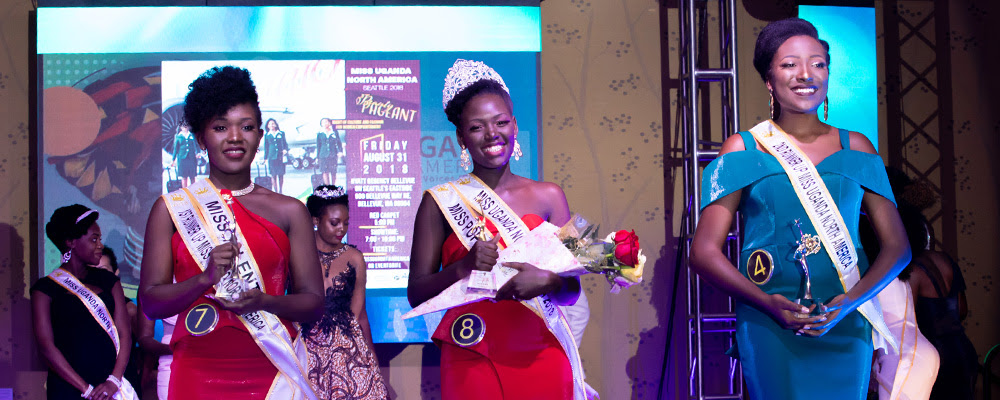 To our outgoing Queen Yvonne Kushe, congratulations upon completing your reign as Miss Uganda North America 2017/18 and all the accomplishments that you achieved.
To the UNAA Executive team, thank you for your continued support of this program. The platform you have offered young Ugandan women is soaring.
To our pageant coach Meiko Parton, thank you for instilling confidence and runway skills into our contestants.
To our team of mentors: Yvette Evie, Aida Doris Kinkufi (Class of 2017), Dorothy Leticia (Class of 2017), Adoch Oryema Acemaha, Beka Wangusi – CEO- Miss AfriCaribe and Iryn Nakitende. Your shared wisdom went a long way. Thank you for being so down to earth to make this happen. The contestants loved those one-on-ones 🙂
To the judges: Zeynab Koroma, Hasifa Kivumbi Agbolabori, Maureen Francisco, Derreck Kayongo and Kansiime Monica, thank you for dedicating your time and effort to select our next Miss Uganda North America.
So many other individuals were super selfless in this effort. We are especially grateful to Clarisa, Zziwa Hanzi, Thierry Rubs Tyllax, Alex Nakato, Irene Caddy, Bagenda Esther and Klova B Kasozi. You have shown that Ugandans can support each other towards great achievements.
To our partners Olivia Nalongo Musisi and Beatrice Musisi (Afrisent – Official Parade of Culture Designer), Olivia Nanfuka (NFKA – Official Evening Garments Designer) and Kansiime Monica (Ipigogo – Official Red Carpet Designer), Zziwa Hairbyzziwa (Zziwa Hair Care- Official Hairstylist), Luna Yusufu (Makeup Artist) Julius Kintu (JulzImages – Official Photographer), Denis Apira (Official Photographer), David Aligaweesa (Official Photographer) and Isaac Mukisa (iConnect Uganda). You all committed a lot of resources to this platform. May your creativity continue to tell Africa's story.
To our official DJ – DJd UG, and the sound, stage and lighting crew, for making the pageant a successful production.
To Irene Ntale and Vanessa Jones, for putting on those epic performances.
To our sponsors, Ethiopian Airlines (Travel partner), Uganda Wildlife Authority (UWA), Uganda Tourism Board (UTB), Sherabo Organics, Mahogany Springs Luxury Safari Resort and Crystal Lodges Uganda and DiasporaTV Thank You for believing in the potential of our program.
From us at Miss Uganda North America thank you all for taking a chance on the Miss Uganda North America Leadership Program and for being great fans. We hope you will continue to support this great program and that our daughters and our communities will continue benefiting from it.
Sincerely,
Tibba Murungi Kabugu
President – Miss Uganda North America
September 7, 2018
0 Comment